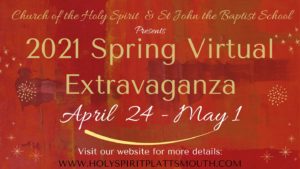 TIMELINE OF EVENTS:
Saturday, April 24th, begins at 5 pm
Welcome to 2021 Spring Virtual Extravaganza with a Facebook Live Event at 5 p.m. on the church Facebook page: www.facebook.com/CHSPlattsmouth
Online auction bidding opens at 5 p.m.
Monday, April 25th thru Friday, April 30th
Browse, bid and mark items in the auction on Qtego event auction website.
Check the "items with no bids" tab on the Qtego event website.
Browse the Premier Items in the auction. Talk with your friends about bidding on these larger items together!
Saturday, May 1st,  ends at 6 pm
Last day to bid on items on the Qtego event auction website.
Purchase a Raffle ticket for a chance to win a $4,000 cash prize, His/Hers Raffle chances, Quick Draw Gift cards and Jeans Day Certificates!
Join us at 6 p.m. for a Facebook Live event where we will draw for our raffle drawings and reveal the winners of our Premier Auction Items.  (www.facebook.com/CHSPlattsmouth)
Special Opportunities:
Become a sponsor, click HERE.
Donate to the 2021 Special Project Fund
We will be selling Raffle Tickets for a $4,000 cash prize at the Fish Fries and on the Qtego site. One (1) ticket for $25 and 5/$100.
Purchase His/Hers Raffle Tickets
Purchase a Student "Friday Jeans Day" Certificate
Purchase "Quick Draw" Gift Cards
Purchase an Appetizer made by Chef Sarah Slattery
REGISTER FOR OUR VIRTUAL AUCTION:
Visit us online HERE to register to bid on auction items, donate to the special project fund, purchase his/hers raffle tickets, jeans day certificates, gift cards and appetizers.