The Man of the Shroud Exhibit is Coming!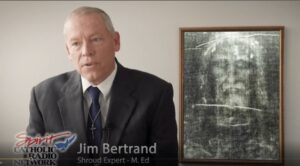 The Church of the Holy Spirit will have an up-close experience of the most studied artifact of all time – The Shroud of Turin, what many believe to be the authentic burial cloth of Christ. The Man of the Shroud exhibit will include 42 beautifully- designed panels on display in the Commons from February 9 through February 16.
We will also present replicas of the Crown of Thorns, whips, nails and Holy Sponge used in the Passion of Our Lord. This exhibit will raise the questions, "Could the Shroud be the most important artifact ever found? Does it provide clues to what happened during the crucifixion and resurrection of Jesus?"
On Tuesday, February 15th, at 6:30 PM, Shroud expert, Jim Bertrand, M.Ed. of the American Confraternity of the Holy Shroud, will give a special presentation and a rare viewing of a Shroud replica in our Sanctuary. The presentation is open to the public. Free will donations are accepted.
For more information, visit spiritcatholicradio.com/shroud.
Exhibit Viewing Times:
The exhibit will be at Church at the Holy Spirit and is open to the public during these hours:
Wednesday, Feb.9 thru Friday, Feb.11 — 9AM – 8PM
Saturday, Feb. 12 — 9AM – 4PM
Sunday, Feb.13 — 12PM – 8PM
Monday, Feb. 14 thru Wednesday, Feb. 16 — 9AM – 8PM