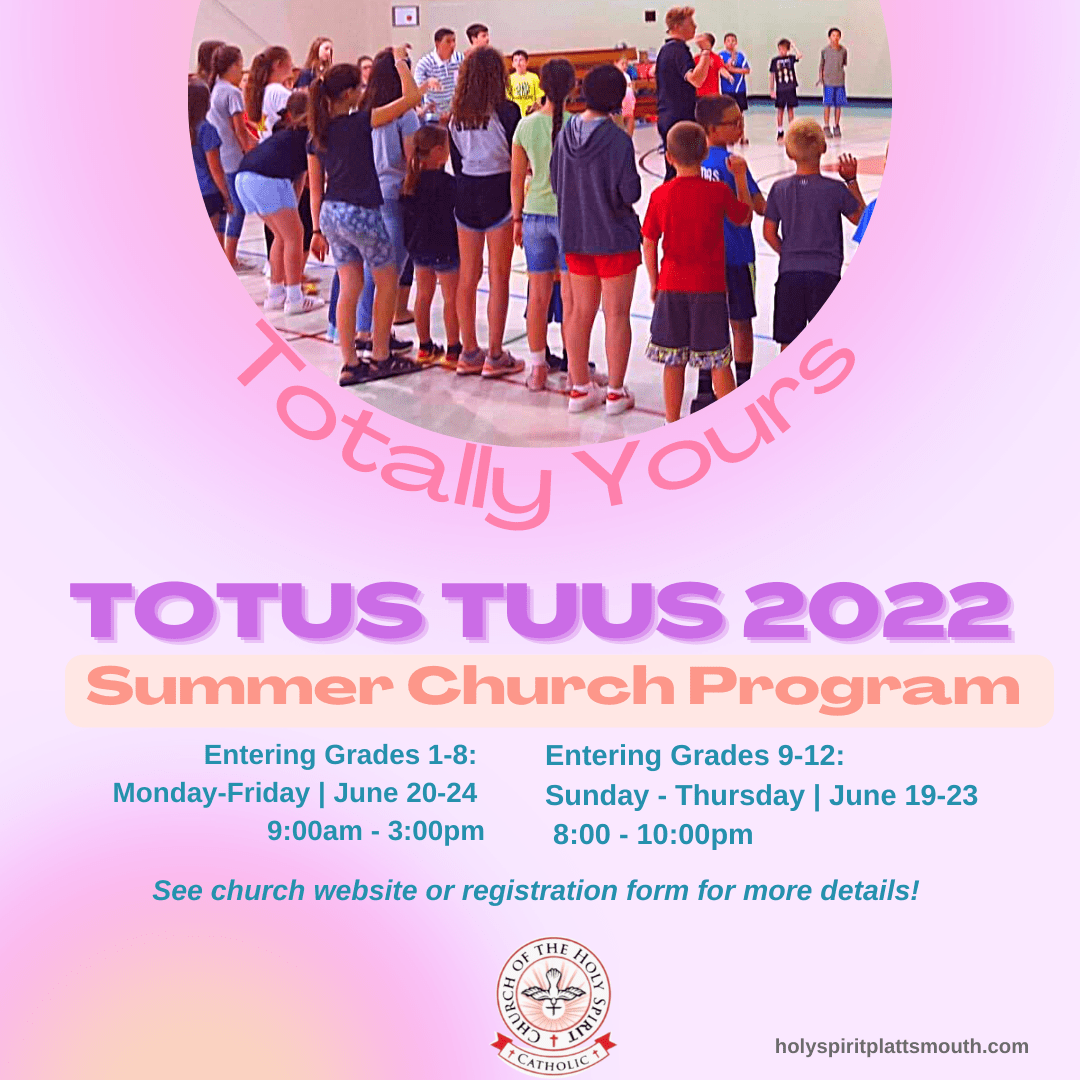 ---
For Kids & High Schoolers Church Summer Program
Entering Grades 1-8: June 20-24 (Mon-Fri) 9:00am to 3:00pm
Entering Grades 9-12: June 19-23 (Sun-Thurs) 8:00pm to 10:00pm
Totus Tuus, which means Totally Yours, is run by a team of four college-age students: two ladies and one gentleman in college, and a seminarian.  Students of all ages will very much enjoy the program – this team of four has a fun (and yet holy!) method of teaching the Faith!
COST:  
$40 each student
$100 maximum per family with 3 or more students
No child will be turned away because of lack of funds.  Please see Father for scholarship.
DOWNLOAD REGISTRATION FORMS HERE!
Registration forms are available after Mass the weekend of May 28/29, June 4/5, 11/12 or 18/19 or bring the registration form to the church office. Also, look for a sign up sheet to volunteer with the camp in the church commons! 
---
Details:

Elementary students should bring a sack lunch. Drinks will be provided (Lemonade or water). Snacks will also be provided during break times.    
Summer camp runs very smoothly because we have great help!  You!  
Starting May 29, look in the Commons for:
A sign-up sheet

for

5 people

wanting to provide

noon

meals for the Totus Tuus te

am and helpers

(for approx 15 people

)

.  

Please sign up to let us know what you will be cooking so there isn't the same meal every day.

J

 Meals may be prepared at home or you may use the equipment in our school kitchen.  Kitchen opens at 9am, and meal time is 12 Noon.  We have helpers to wash pots & pans & dishes!  

A sign-up sheet

for

3 families

wanting to serve a supper meal for the Totus Tuus Team and our priests in your home or in the Commons.  These meals will be Monday, Tuesday or Thursday, and need to be at 6:00pm so that the team can be back to church by 8:00pm.

A sign-up sheet

for 2 or 3 High School helpers

for the elementary sessions.

A sign-up sheet

for 2 host families, to provide the Totus Tuus team with sleeping arrangements, a morning breakfast, and possibly a snack.  One

family

to host the men, one to host the women.
If you have ANY questions, please feel free to contact: Crystal Jeys, 402-601-3557.