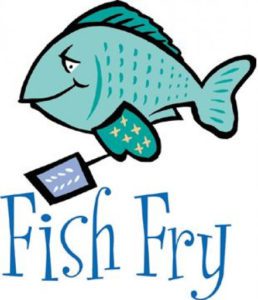 Church of the Holy Spirit will continue the time-honored tradition of the Lenten Fish Frys: Beginning Feb 19th, and all Fridays in Lent (Not Good Friday).  Although Covid 19 will not allow us to dine together, we will be serving our traditional fare TO GO and with delivery optional.
Cost: $10.00: Choice of entrée: Bake or fried Alaskan Pollock, fried jumbo shrimp or limited number of carp. Meal includes choice of baked potato, mac and cheese or soup.  All meals include coleslaw, bread, water or soda, and dessert.
Kids meal cost is $6.00: Grilled cheese, choice of mac and cheese or soup.  Meals include water or soda and dessert.
Fish Frys are held in St John the Baptist School Gym, from 5:00 to 7:00pm.  Credit cards, checks and cash accepted.  CDC guidelines will be followed.
For delivery, please call 402-296-3139 (CHS) from  2pm – 4pm on Friday.  Credit card only for delivery. Delivery area includes Plattsmouth, Bay Hills, Copper Dollar Cove and Beaver Lake.  Food will be delivered between 5:00 and 6:00pm.